One of the county's most popular fun-filled, family friendly attractions
We're so much more than a soft play centre – with us, you get a little bit of everything!
All year round – come rain or shine – at Kidzworld in St Austell, you're guaranteed a great time!
Plan your visit around other outstanding attractions in the area, like the Eden Project, Cornwall Football Golf, Pinetum Gardens, The Lost Gardens of Heligan and Charlestown.
Open up to 7 days a week with ample free parking. For up-to-date opening times see our booking calendar, check us out on Facebook or call 01726 815 553.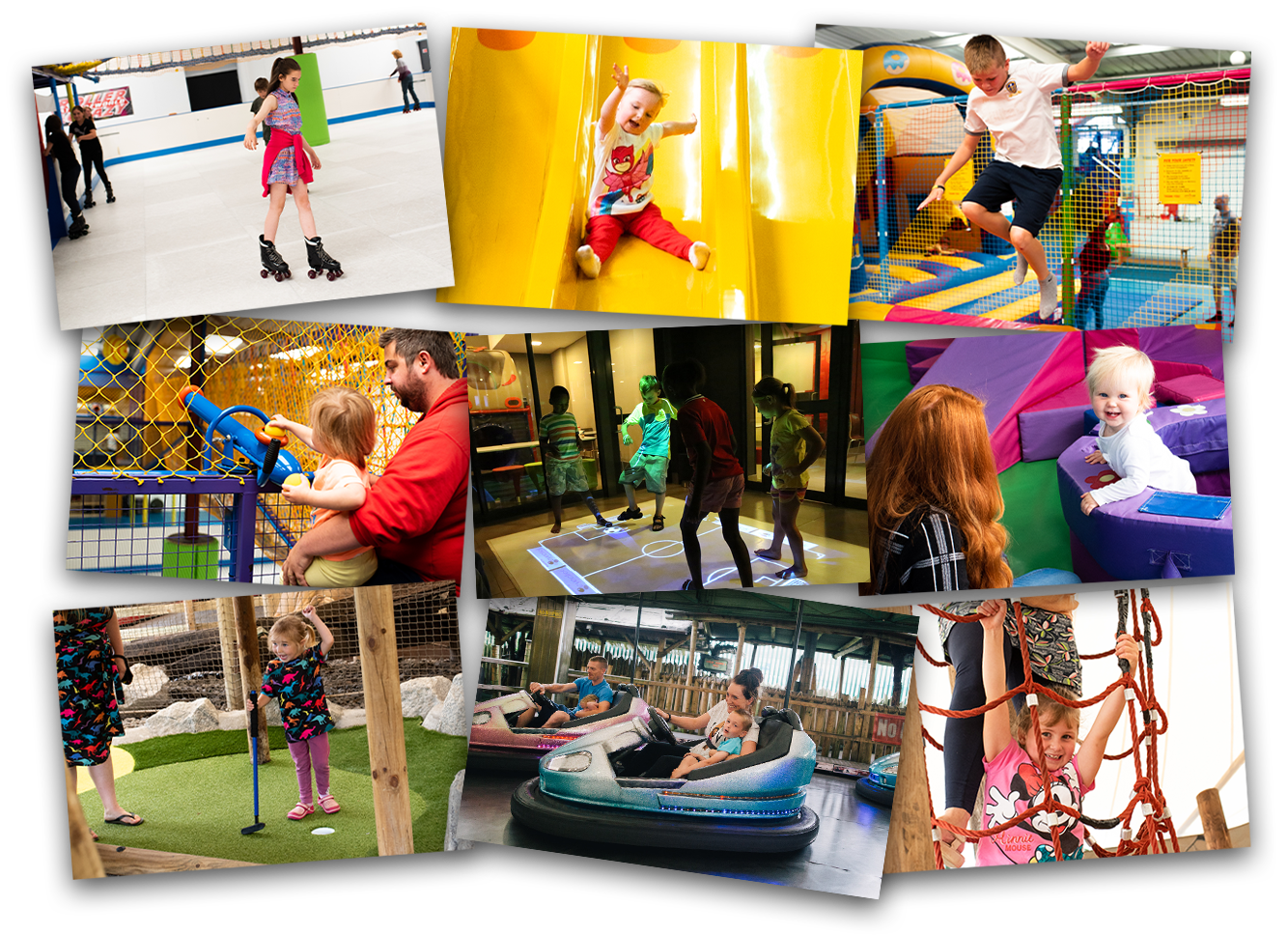 *We recommend booking your family tickets for our indoor play sessions online, we have limited spaces so on busy days we cannot always accept walk ins
Attractions
Please select an attraction for more information: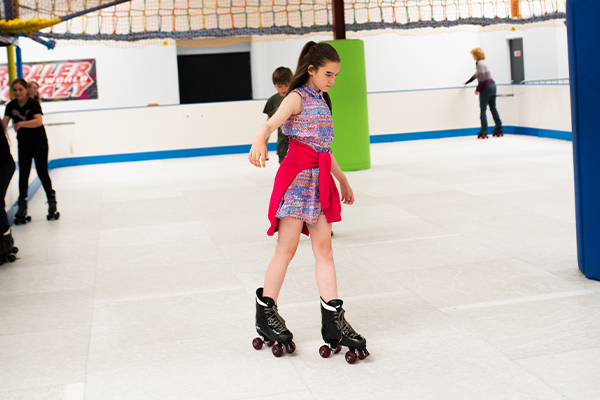 Roller Skating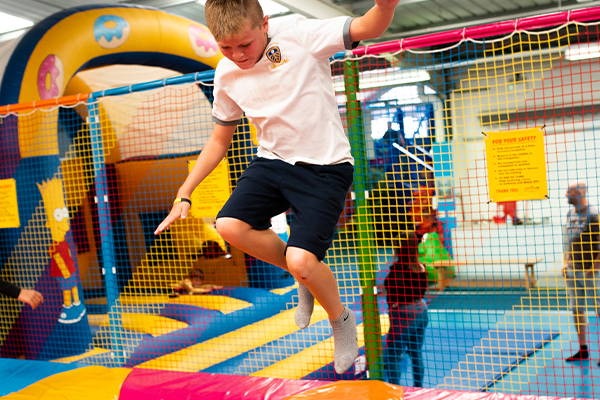 Trampolines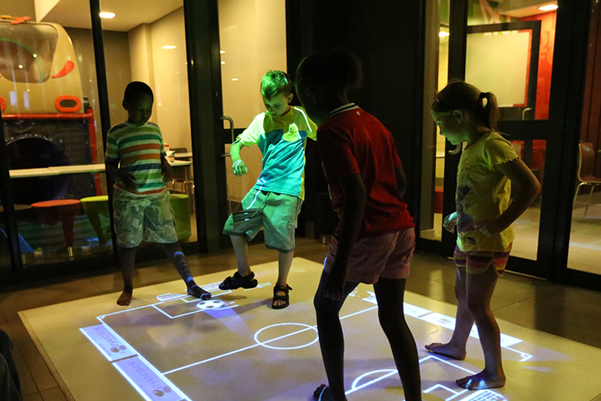 Games Zone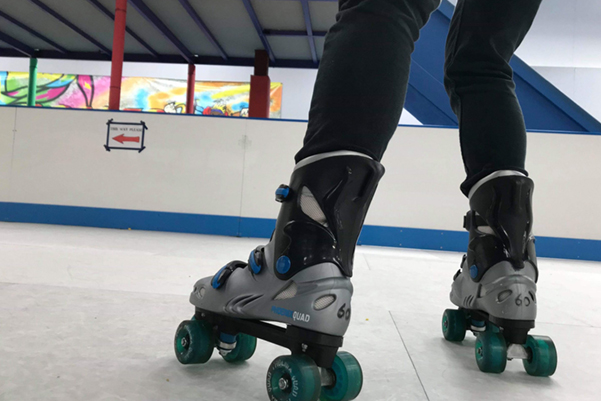 Strap on those skates and, wey hey hey … away you go! Roller skating at Kidzworld is rollicking good fun for all ages. The whole family can enjoy the buzz. No wonder it's one of Kidzworld's most popular activities!
Experience the thrill of lapping our spacious rink, which can accommodate up to 30 skaters at any one time. From youngsters just finding their roller skating feet, to older children who are already up to speed – not forgetting the adults reliving past glories – there'll be no stopping you! Kids, why not challenge the grown-ups to a race round the track? After all, they've probably not been skating for years – so here's your chance to show them how good you are with your skates on!
Please note after school, weekends and school holidays only. Children must be over 1m in height for this activity.
Trampolines
Bounce and bounce and bounce – until you can bounce no more!
Experience the exhilaration of giving trampolining a go for the first time. Or maybe you're already a bit of a budding gymnast. For newbies, seasoned trampolinists or any standard in between, our eight-bed, sports class trampoline area gives you the chance to reach new heights. Have fun with your friends and, guess what, before you know it mums and dads will be jumping at the chance to get airborne too! With an impressive six metre height clearance, feel free to jump as high you can go.
Please note that this is open after school, weekends & school holidays only. Be advised, children must be over 1m in height to use this activity.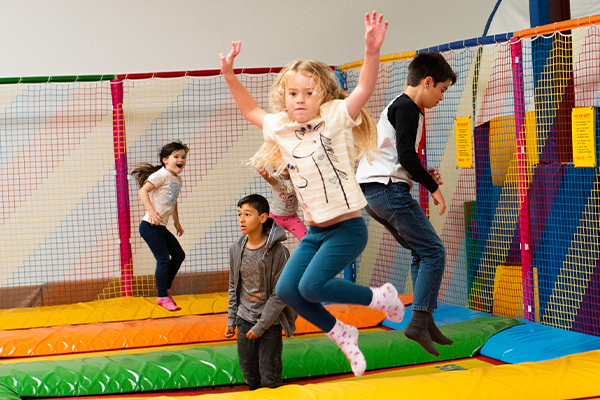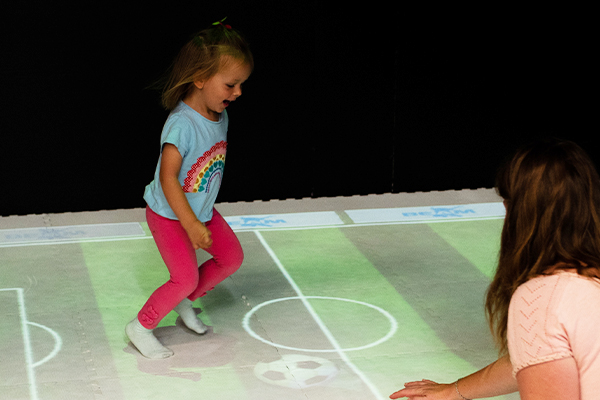 Games Zone
This is a neat piece of kit that's new to many of our visitors! Develop your brain and have tons of fun at the same time!
Our state-of-the-art Games Zone is a fantastic addition to Kidzworld, providing a superb selection of 80 games – suited to all ages and ability.
The Beam interactive overhead projector turns the floor area into an immersive, active gaming experience.
Try out sports games, memory and educational games, or adventure games. Older "gamers" can enjoy football and mind testing contests, whilst toddlers aged 2 and upwards will love the sensory challenges on offer. You can even get to play a virtual piano!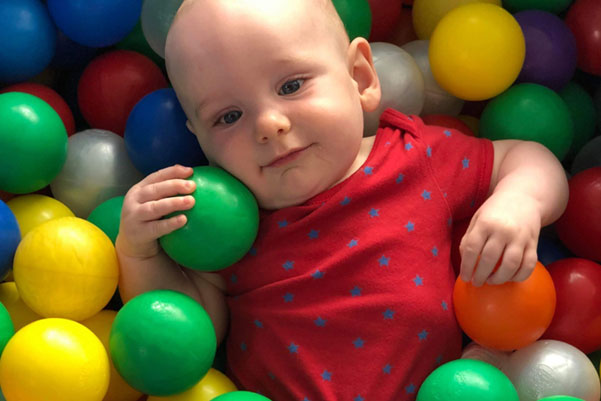 Toddlers World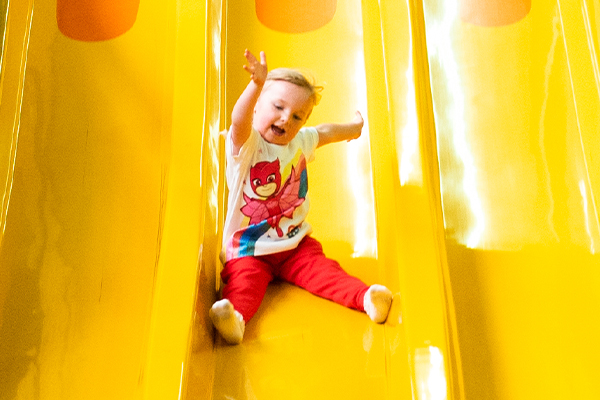 Slides & Soft Play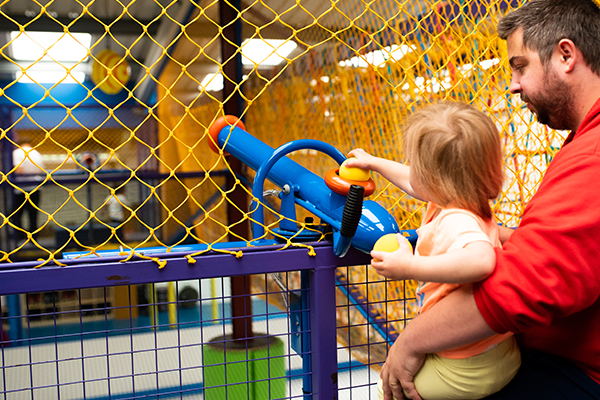 Cannon Arena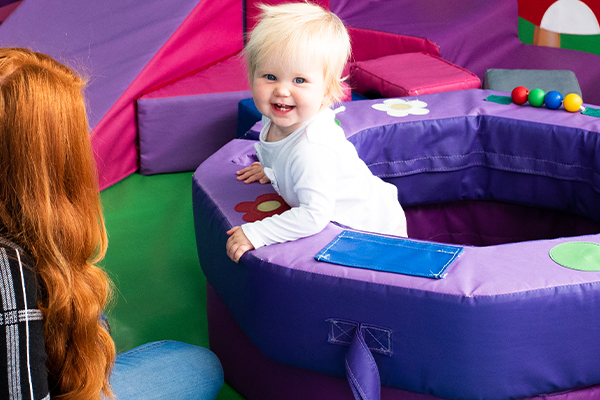 Toddlers Village
For parents with little ones, you're in for a treat. At Kidzworld, we've created a miniature play area (basically a smaller version of the bigger indoor play area) which is perfect for hours of unlimited play for children aged up to 4.
It's stocked with loads of soft toys, slides and playthings. A feature of Kidzworld is that all our activities are family focussed, where mums and dads are encouraged to be part of the action. Our Toddlers' Village is no exception – it's self-contained, safe and secure – and easy to keep an eye on the young ones while they're hard at play.
Slides
Down the slide we go! Adventure Play wouldn't be complete without loads of slides to try out – and we've got no fewer than four of them to whizz down. They come in varying heights, so you might want to start with the lowest and work your way up to the highest. There's the three lane astra, the enclosed tube slide, the wave slide and finally, the double down drop slide (make sure you've got a head for heights for this last one!)
Temporarily Closed due to Covid-19
Soft Play Zone
Let your boundless bundles of energy burn it all off in our superb soft play area. It's the perfect place for little ones to have a whale of a time and also get tired out!
Climb, slide and roll round – there's loads of fun stuff to get stuck into from ball pits to climbing frames, slides and bish bash bags. Plus, it's designed for adults to provide hands-on supervision, if they so wish. Alternatively, the grown-ups can have a reviving cuppa in the café while the kiddies let their hair down. You decide!
And being under cover, if the weather's bad, nothing need disrupt the fun and games.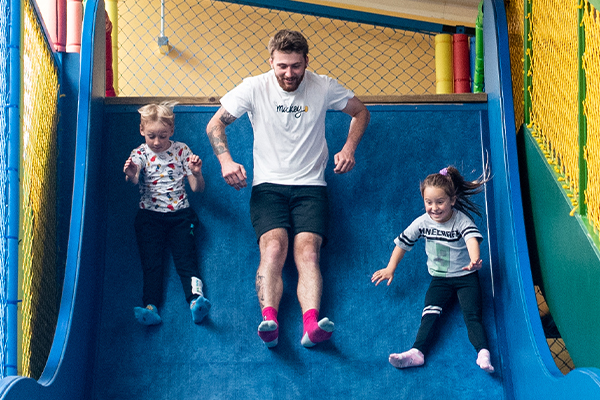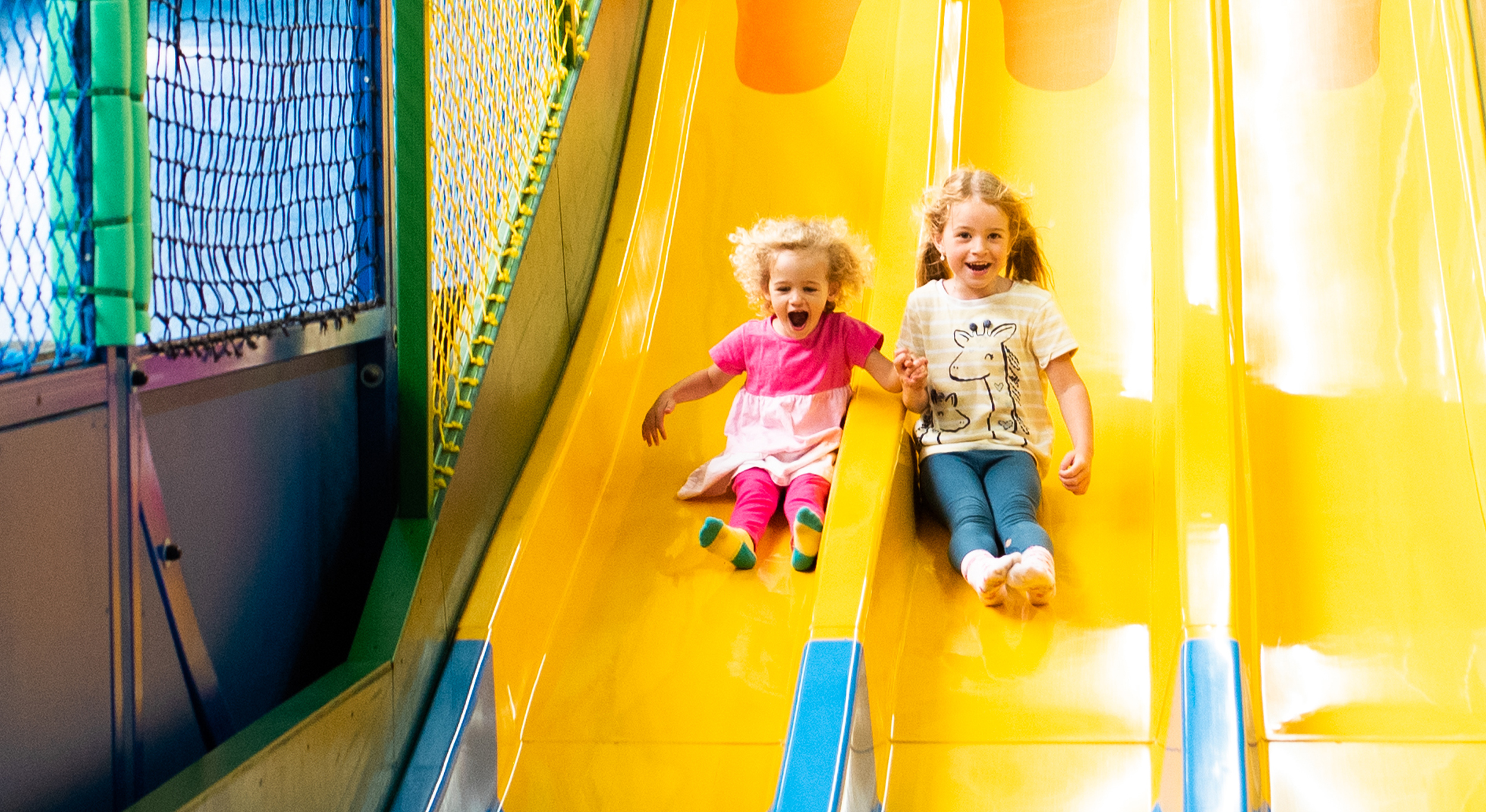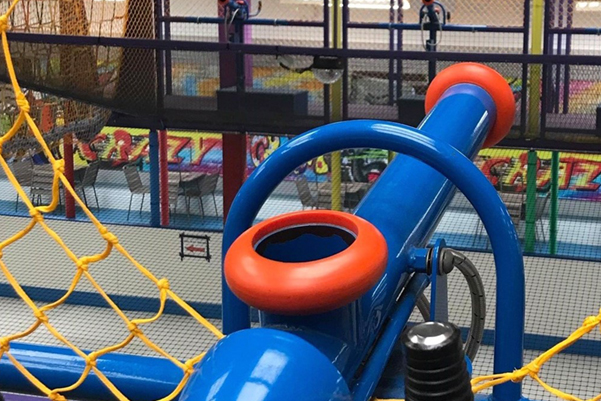 Cannon Arena
Take aim and fire, hotshot! Our Cannon Arena is a barrel load of laughs for all ages – we know you'll have an absolute blast.
The "shooting gallery" is now situated above the roller skating rink, which gives that extra oomph to the atmosphere.
But are you up to the challenge – can you hit all the targets? With a total of six guns, three on one side, three on the other, load up those foam balls and fire them at the interactive targets, which will light up and make funky sounds if you hit the mark. Or you can aim at each other. Either way, set your sights on having a fantastic time.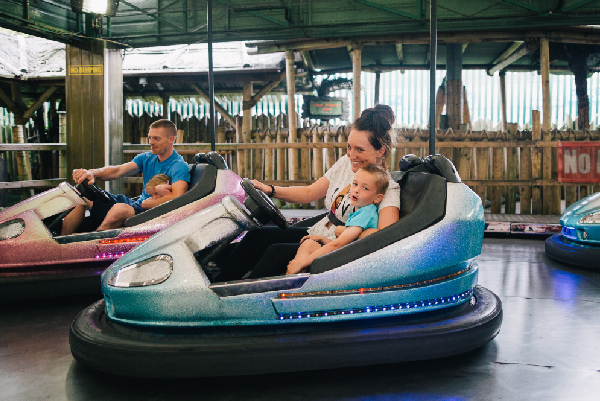 Dodgems
Mini Golf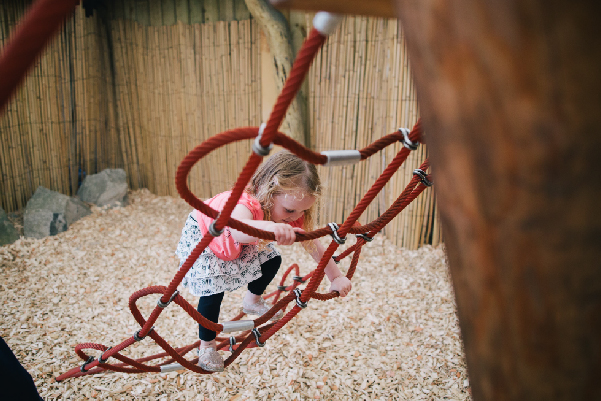 Outdoor Play
Dodgems Open Seasonally – £2.00 per car, no booking required
Swerve to the left, a quick turn to the right. Careful you might drive into someone! Whoops, I just did!
Our family-orientated dodgems circuit is a great place for "learner drivers" to master what it feels like being behind the wheel. We've got eight, two seater cars, which you can drive on your own if you are 52 inches tall (four feet four and over). Any shorter and you'll need to be accompanied by someone over 16. Mind you, Dad won't need any excuse! But whether you are at the controls, or just going along for the ride, a bumper fun time is guaranteed for all – even for the backseat drivers watching from the sidelines!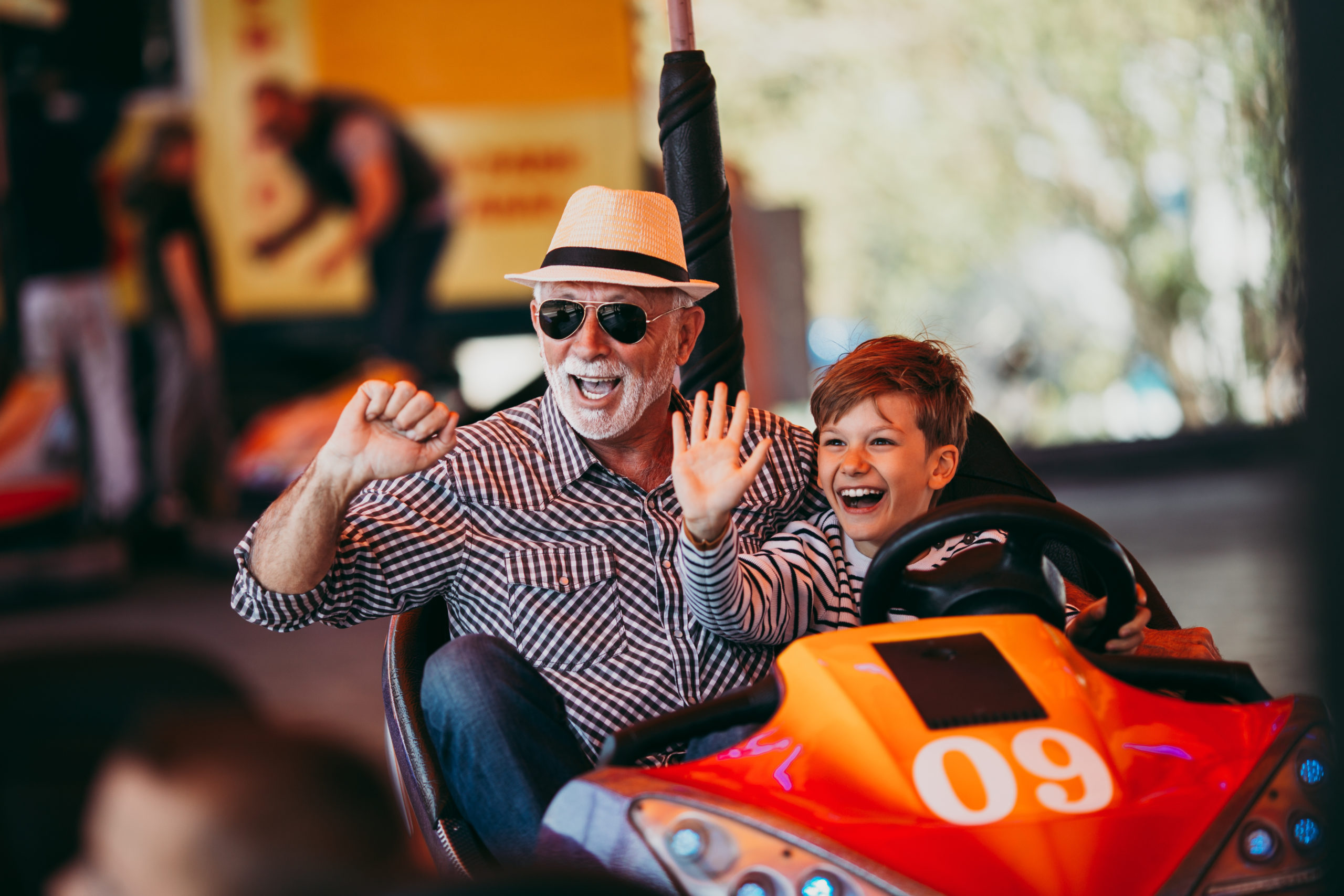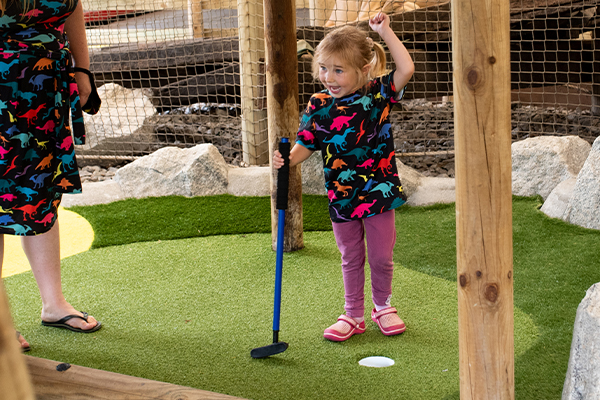 Mini Golf Open Seasonally – £3.00 per person, no booking required – Newly refurbished for Summer 2021
If this is the first time you've picked up a golf club, Kidzworld is the perfect place to learn the game. Before you know it, you'll be hitting holes-in-one all over the place!  
Enjoy 12 holes of fun and interaction with our jungle-themed mini golf course. Sink those putts under the watchful gaze of the occasional zebra, gorilla or lion. Look closely and you'll also spot a few birds here and there. But don't be too distracted, there's a contest to be won! Yep, before you know it, mum, dad and the grandparents will all be wanting to join in. So who's going home with the lowest round?
Outdoor Play (The O-zone) Free Play Area, no booking required, open seasonally
When the weather's good, there's nothing better for kids than to get out in the fresh air for exciting outdoor adventure. Our child-friendly wooden play facility, O-zone, is one of the most popular attractions at Kidzworld. And it's now bigger and better than ever. Children of all ages will love the O-zone!
In addition to all the climbing equipment and scrambling nets, we've recently introduced a whole new section featuring play houses, crawl tubes, see-saws and little look-outs. You can even get from one area to another on a wooden stilt boardwalk.
See how good you are at keeping your balance on our wobble boards – it can be trickier than it looks!
For those who like scaling the heights, the vertical climbing ropes take you high up into the "tree house". The descent is much easier – just take the slide all the way back to the ground.
Outdoor play doesn't get any better than this!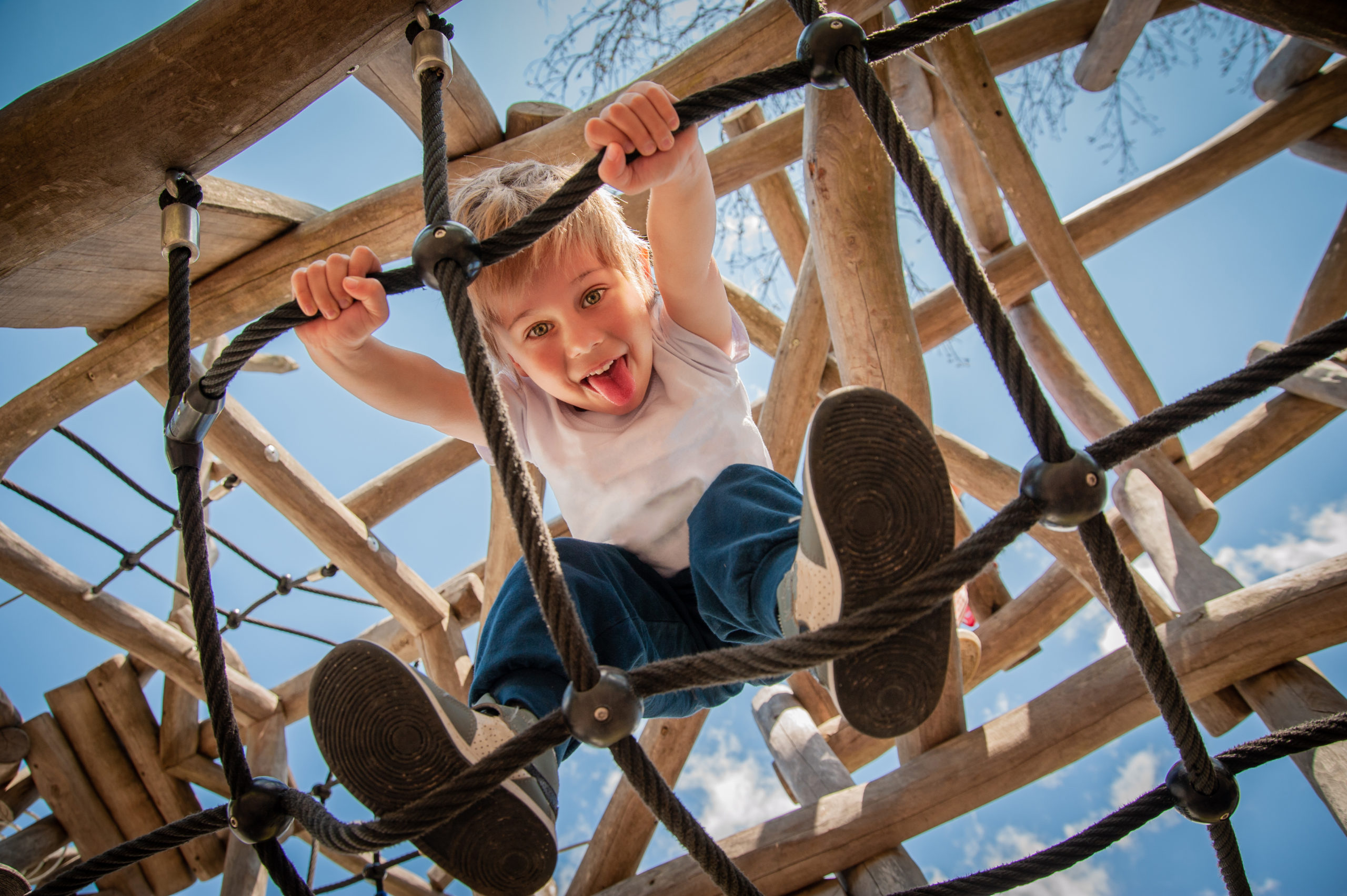 About Kidzworld Cornwall
Conveniently located on the outskirts of St Austell, Kidzworld is the region's No. 1 Adventure Play Centre – where the emphasis is on family fun.
As an all-year-round venue, we've established a great reputation amongst the local Cornish people, just as much holidaymakers and visitors to the area.
Our indoor and outdoor activities are designed for toddlers through to young teenagers – adults are encouraged to join in too!!
Kidzworld's superb range of activities will keep you entertained for hours – from Soft Play, Slides & a Cannon Arena to our Interactive Games Zone, Roller Skating (+1m) & Trampolining (+1m) indoors then outdoors we've got Climbing frames & Play houses, Dodgems & Mini-Golf (Open seasonally) – we've got the lot!
Your kids will love it, you'll love it, so why not bring the whole family along – there's fun and entertainment for everyone.
With unlimited play during your indoor play session, free parking, food available on site, whatever the weather Kidzworld is the place to go!
*Please note that customers own food is not to be consumed within Kidzworld; we cater for many food allergies, please ask at our cafe or email before your visit for more information